Auckland, New Zealand, 20 - 23 March 2018

The 15th IFEH World Congress was hosted by:
New Zealand Institute of Environmental Health Inc.

All given presentations are available from here

Look up the overall Congress Programme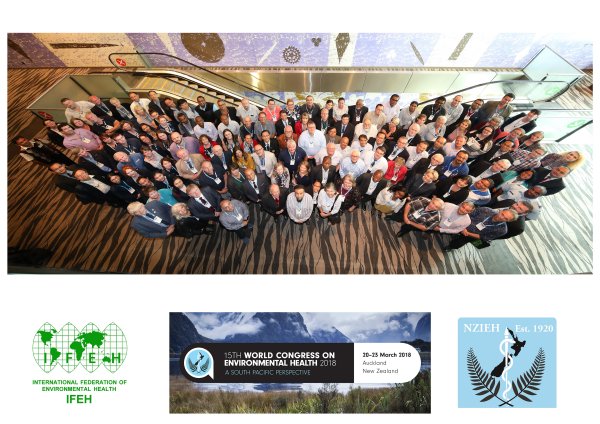 The official Congress Photo showing the NZIEH Organizing Committee, Members of the IFEH Council and Congress Sponsors. Click the photo to get a larger version.



Thanks from the President of the NZIEH, Vanessa Coull :
" Thank you all once again for your attendance and contribution to the success of the IFEH 15th World Congress in Auckland, New Zealand. See you all again in Malaysia in 2020!!
Vanessa, Steve, Raaj and Darryl. "


Thanks from the IFEH
The IFEH would like to extend our deepest thanks to NZIEH for hosting this very successful World Congress.

Also the IFEH would like to extend our deepest gratitude to the sponsors who sponsored some of the IFEH and Conference activities: New Zealand Ministry for Primary Industries, Manatu Ahu Matua; MethSolutions; DATACOM; Hutt City, Te Awa Kairanci; Styles Group; Chartered Institute of Environmental Health and Hedgerow Software Ltd.

The Hegderow Bursary once again enabled the IFEH to welcome participators from developing countries to take part in the IFEH Council meeting / AGM and by so to take part in this great event.
IFEH hosted its Annual IFEH Council and Regional Group meetings, the IFEH AGM and the International Faculty Forum for academics from 18 to 19 March in connection with this event. The IFEH meetings were lead by the out going President of the IFEH Peter Archer, CIEH.
The IFEH give our sincere thanks to the outgoing IFEH President Peter Archer for his commitment to the Federation the past two years.

The IFEH welcome our new IFEH President Selva Mudaly, South Africa, to serve from 2018 - 2020.
Likewise we welcome our new IFEH Presient Elect Prof. Susana Paixao, Portugal

The IFEH congratulate Henning I Hansen, Denmark, being the receiver of the Eric Foskett Award 2018.


Conference website: www.2018wceh.org

About the Congress
This congress provided a platform for Environmental Health practitioners and industries to share knowledge of the most recent techniques, developments, innovations and the latest updates in Environmental Health. Emerging environmental health risks was explored with a view to mitigating adverse health or economic consequences through best practice.
Participants
This congress targeted a worldwide audience from various groups of specialists, practitioners, managers, students, industry representatives, entrepreneurs and leaders directly and indirectly involved with environmental health, science, practice and research.

Objectives of the Congress

Sharing knowledge and best practices of environmental health risk identification, assessment, management and services delivery globally
Raising the profile of environmental health around the world and most importantly in the developing countries
Enhancing inter-country collaboration in environmental health practice
Identifying gaps and the training needs of environmental health
Promote the environmental health needs of children, women and the underprivileged people around the world
Promote environmental health research
Congress Sub-Themes
Changes and challenges in Environmental Health

Environmental health issues in the Asia Pacific region

Civil defence, emergency response and humanitarian disasters

Food safety, science and innovation

Built environment - housing, noise

Environmental pollution, protection and remediation

Methamphetamine and other drugs

Pest control

Water quality - drinking and recreational

Occupational health, and community safety and wellbeing

Epidemiology to improve public health

Environmental health statutory framework - policy, standards and legislation

d